Shopping Cart
Your Cart is Empty
There was an error with PayPal
Click here to try again
Thank you for your business!
You should be receiving an order confirmation from Paypal shortly.
Exit Shopping Cart
The Official Mega Inter-Galactic Worldwide Space Gypsy Website
"Come and visit our website", said the spiders to the flies.
Influences and Inspiration.
The Space Gypsy Adventures are an amalgamation of many things, many ideas and many concepts, and I guess they first started formulating themselves in my head around the summer of 1978, when I was entering my final year at school.
At that time, a friend of mine, by the name of William Reay, had a border collie dog called Leea - and I'd always liked dogs. I had a little terrier dog of my own, but I liked collies, and always had done ever since I saw Shep on Blue Peter with John Noakes when I was a kid. (In fact, my liking for this breed of dog is still with me today. Up until recent years I had four of them as pets!

In 1978 some quite spectacular things were happening both on TV and at the cinema. Watership Down was released. A brilliant British film with some great artwork. Its impact on me was so much that it inspired me to carry on with my own cartoon work. Science fiction also received a boost in '78. Star Wars was in the cinema, as was Close Encounters of The Third Kind and, on the TV, we saw a rennaissance in Doctor Who. Blake's 7 also appeared for the first time. Inspired by all this, I decided to try and start to create a science fiction cartoon strip of my own.
That first cartoon strip was entitled 'Leea, Defender of The Universe' . It featured a gun-toting border collie type of dog travelling across the cosmos, blasting baddies. It was rough, but it was a start. She was later joined by another character called Duke, who was named after one of the pups that my friend's dog had.

My original cartoon idea didn't get anywhere. I'm not surprised really, and in a way I am relieved, because it was rubbish! I eventually put the idea to the back of my mind and got on with the serious part of life when I left school. I had to stop dreaming and get a job!

I worked in a few factory jobs, which I hated, up until about the middle of 1985, when I was made redundant. Knowing that I had time on my hands, my uncle started asking me if I would like to accompany him on coach trips up and down the motorway. He used to run a coach company, and we would often take empty coaches down the M6 motorway to pick up holidaymakers from Manchester Airport. Either that, or we would take the people down to the airport and return with an empty bus.
Sometimes we would take the buses down to Blackpool or Wakefield to be repaired, or to be tested for their M.O.T. Anyway, I spent a lot of time travelling up and down the motorway on an empty bus, which was great, as it gave me time to think.
Space Gypsy came about as a result of those motorway trips. We would usually pull in to service stations for a bite to eat and we often got talking with other drivers. This is where the idea for Leah's spaceport cafe came from. In Space Gypsy Leah runs a cafe where the pilots of different sorts of space vehicles meet up - freighters, shuttles, transporters, etcetera. In the motorway services my uncle and I would usually end up chatting with lorry drivers or other bus drivers.
Drakester Spaceport
Yes, Gemma is a long distance lorry driver! Her Rapscallion space freighter is not much more than an intergalactic heavy goods lorry, and the spaceport on the planet Zenophon is, in fact, based on the workings of a motorway service station - with a bit of Manchester Airport thrown in!
There is a bit more to the characters than that, but this is where the basics came from.
Gemma Mildury was born on June 15th 1985. I know that for a fact. The idea for her creation came to me during a trip down to Manchester with my uncle to pick up some holidaymakers from the airport. I made a note of the day in my diary. I'd had the idea of a travelling character for some time, but wasn't quite sure of what sort of character it would be, or what it would be called.
So, this is how the character of Gemma developed from that point on; It looks so simple written down. But, believe me, quite a lot of thought and effort went into her creation.
First of all, what kind of creature should this character be? I was determined that it wasn't going to be human. The project I was working on was initially planned as a cartoon strip. Animals make much better cartoon characters than humans - it's a well known fact. The character was going to be a traveller living off its wits. Gemma couldn't have been anything else but a fox!
CGI view of Gemma's 'Rapscallion' space freighter
Because the fox was going to be living on board whatever it was travelling in, I had already begun to regard it as a gypsy. The thought of a fox driving a long distance lorry sounded a bit silly, so it had to be doing something similar, but in a more fantastic setting. It was going to join up with my original cartoon character Leah (the name now spelt slightly differently for aesthetic reasons) and live in space. It was going to be a space gypsy living on board a space freighter - simple, eh?
The decision to make my leading character female came from a number of situation comedies where women were the stronger characters, and they always got the better of the men.
George & Mildred is a good example, as are Last of The Summer Wine, The Liver Birds & Man About The House. Gemma owes more to British sitcom for her creation than she does to 'Star Wars'!
The character of Gemma is not based on any one particular person. She kind of developed in her own right. As for her name, I'm not 100% sure where that came from. For some reason, I'd had the name Gemma buzzing around in my head for years. I don't know why, but I liked it. I don't actually know any Gemmas personally. I think, if anything, it came from the actress Gemma Craven, but it's so long ago that I really can't remember!
Actor John Leeson did a lot to bolster Gemma's character when he gave her a voice in the 1986 hospital radio adaptation of the Space Gypsy stories. For a bloke, he made her sound surprisingly sultry and sexy! After the initial run of the first few programmes we received a number of phone calls asking who the sexy lady was who was doing Gemma's voice! I don't think some of them believed me when I told them that it was a man!
John, of course, is well known in the science fiction world for his numerous appearances and voice work in Doctor Who. He has been the voice of The Doctor's robot dog K-9 for many years. He became involved with The Space Gypsy project after he had worked with me on a hospital radio show called Interstellar Requests.
He happened to mention that he worked with a charity organisation who produced talking books for the blind. When I asked him if he wouldn't mind recording some of my stories I was quite happily surprised when he readily agreed!
Since the 1986 radio serial I have always kept John's interpretation of Gemma in mind whenever I have written new material for her.
On the back of the success of the hospital radio serial I was finally able to persuade a newspaper editor to take the characters on - even if it was just in the local rag - and in 1987 The Space Gypsy Adventures made its cartoon strip debut.
This is how the characters have developed over the years:-
Leah:- As stated earlier, Leah was the first character I created. However, in the original cartoon strip, she was a gun-toting freedom fighter. In The Space Gypsy Adventures she is much more demure and refined. She is the manager of the Drakester Spaceport Cafe and Coffee Shop.
Although it has been suggested a number of times, Leah has no connection to Princess Leia in Star Wars. Her name might be similar - but that is where the similarity ends. Leah's original creation was based on a friend's collie dog - she was an ex-farm dog who had a penchant for chasing cars, which is the reason why she was no good to the farmer. My friend took her on. She came already named.
Duke:- Like Leah, was based on a pet dog owned by my friend. In fact, he was one of Leea's (my friend's dog's) pups, and I am told that he was named after the TV series The Dukes of Hazzard.
Duke is another border collie. He is a mechanic who makes his living by repairing, buying and selling space vehicles. He is also the object of Gemma's affections and, although he has pulled the good old compromise of getting engaged to Gemma, he is determined to stay a bachelor for as long as he possibly can!
Damien:- Gemma's cub brother. Damien is nine years old (in the first series he is quoted as being eight, but during a pending story Damien celebrates his ninth birthday - and yes, it is possible to have a nine year old fox cub in the Bitlex Cluster!) In The Space Gypsy Adventures Damien is Gemma's sidekick. A great deal of the humour and pathos of the project is generated by the chemistry between Damien and his sister. Damien is often referred to as a little brat, but he's not really all that bad. He's just a little mischievous, that's all.

Damien's creation was inspired by many things. Mostly, he is a culmination of all the kids I have got to know on the children's wards of the hospitals I have worked in over the years. Other aspects of his creation were inspired by some of my favourite tv shows of the 70's. He has a penchant for slipping into a gangster persona he calls 'Tha Cubfather', Dog Fox Cublioni - an obvious nod towards 'The Godfather', but Damien's gangster activities are more Bugsy Malone than Marlon Brando.
Despite his name, Damien has no connections with 'The Omen' films. The truth behind Damien's name is that he was partly based on Tristram in the tv series 'George & Mildred'. The nearest similar sounding name I could think of to Tristram was Damien...so now you know!
Fluff Catt:- Another pet-inspired creation. Fluff was a cat owned by my friend, William Reay. In The Space Gypsy stories she earns her living by piloting a shuttle transporter, moving shuttles from the factory to the showroom. However, she is not averse to getting involved with the odd dodgy dealing with her friend, Gemma.
In the original 1980's serial, Fluff was a rather 2 dimensional character. She was introduced simply to pick arguments with Gemma. When I decided to bring the serial back in 2004 I determined that Fluff should be a more rounded character. In the updates she and Gemma are good friends. Fluff now wears leathers and is something of a biker. She is also something of a rocker. I put a guitar in her paws and gave her a singing voice akin to that of Suzi Quatro.
Detective Inspector Spiker:- Of the Federal Alliance Police, no less. Spiker is a large shaggy looking alsatian dog. He is also Gemma's arch-nemesis. He is to Gemma what Wile E. Coyote is to The Roadrunner. He often comes close to catching her - but never does. Gemma is way too clever for him. In the earlier stories Spiker is after Gemma's blood. But, as the stories unfold, he relents a little and regards her more as an irritating nuisance.

Detective Constable Bones:- Spiker's second in command is a young fox with Space Gypsy blood running through his veins. He speaks with a strong Galvert 6 accent (otherwise known as Welsh!). He has an empathy for Gemma and Damien's plight and is often on the sharp end of his superior's tongue. He also has a soft spot for Fluff, and strikes up an infrequent relationship with her after meeting her at close quarters in The Great Chocolate Biscuit Caper.
Jehlise Mossus:- Despite Damien purporting to hate all that 'kissing and slobbering stuff', in The Daytrip To Tower City he manages to get himself a girlfriend! Although he feverishly denies that he has any romantic feelings for this little kitten, the bioamulet round his neck would seem to know better. It changes colour slightly when he attaches a ring to it that Jehlise has given him as a token of friendship.
Further episodes have yet to be written involving Jehlise (she is being written into the re-writes of 'Teething Troubles' and 'The Great Chocolate Biscuit Caper'), and we're not giving away too much here about how these two youngsters get along. You're just going to have to watch this space and wait.
The idea for Jehlise came to me when night when I was watching Disney's 'The Aristocats'. I noticed how the little kitten Marie seemed to boss her brothers about, but was also something of a liability. During the cats' journey home in the film she gets into danger not just once, but twice. Given Damien's supposed avoidance of the female gender, I thought that a cute calamitous lady kitten would be a good foil for him!
Jimmy DaWeasel:- A very dubious character. A weasel in more ways than one. Jimmy is not to be trusted - which is why Gemma has so many dealings with him! Whatever Gemma needs to supply, Jimmy can get it for her. Jimmy is also friends with Leah and Duke. He keeps Leah supplied with catering materials for their cafe and coffee shop. I wonder if Leah has ever looked closely at her receipts?
In the orginal stories Jimmy's character was a mouse called Squeeks. As Squeeks I thought the character was a little too two-dimensional. He served little purpose than being a supplier for Gemma. In the updated versions he has changed name and species and has become more of a spiv.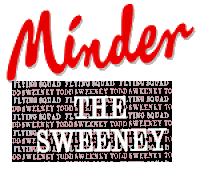 For some reason, I have always felt that Space Gypsy had a bit of East End London in it. I don't know why. Maybe it stems from John's interpretation of Leah, as she reminds very much of the character of Pauline Fowler in EastEnders (played by the late great Wendy Richards).
Spiker and Bones are a direct nod to my liking of such shows as 'Minder' and 'The Sweeney'.
Here are the original Space Gypsy radio show titles and approximate transmission dates.
1986 series 'The Adventures of Leah, Duke, Gemma & Friends'
1. "Duke & The Space Gypsy" July 1986/ 2. "Preparing a surprise for Gemma" July 1986/ 3. "Gemma's Birthday Party" August 1986/ 4. "Leah's Tragical Mystery Tour" August 1986/ 5. "The Daytrip To Tower Head" August 1986/ 6. "Leah's Wedding" August 1986/ 7. "The Greatest Adventures of Leah, Duke, Gemma & Friends" (compilation show) Christmas 1986
1987 series "The Further Mis-Adventures of Leah, Duke, Gemma & Friends"
1. "The New Arrival" 7/11/87 / 2. "Teething Troubles" 14/11/87/ 3. "Gemma's Dilemma" 21/11/87/ 4. "Engagement Rings & Sneezing Powder" 28/11/87/ 5. "The Great Chocolate Biscuit Caper" 5/12/87/ 6. "Leah's Christmas Pantomime" 12/12/87 repeated 25/12/87
Bothe 1980's series were repeated on numerous occasions until 1997 when Damien Enterprises decided to withdraw it from syndication. Series returned as 'The Space Gypsy Adventures' in November 2004 -
November 2004 - "The Space Gypsy Adventures"
Series returns with a nine episode re-write of 'The Great Chocolate Biscuit Caper' broadcast daily from 17/12/04 - 25/12/04 inclusively.
The Great Chocolate Biscuit Caper has remained in syndication since it's release. However, the story was edited slightly when it was pointed out that we had wrongly quoted Einstein!
'The Daytrip To Tower City' goes on the air for the first time a year later on 17/12/05 and runs daily until 25/12/05. It is a nine-episode re-write of 'The Daytrip To Tower Head'.
No new material is released for Christmas 2006. Instead, rediscovered episodes from the original 1987 BBC Radio Cumbria original pilot are aired for the first time.
'The Christmas New Arrival' gets released on 17/12/07. The story features all-new digital sound effects and a spectacular crash sequence involving Fluff's transporter, 'Fluff One'.
Space Gypsy short 'Damien & The Snow Kitten' goes into syndication on 18/12/09. It is based on a short story submitted by Space Gypsy fan David Monid.
14/2/10 A further episode based on one of David Monid's short stories, 'Damien's Valentine Day Panic, goes into syndication. It is the first episode to feature original music written for the show by Tom Tyson, Steve Falcon and John Litt, performed by The Rock Kittens.
19/12/11 The Christmas special 'Pilfered Puddings & Pantomimes' (also known as 'Gemderella') is issued on Patientline Hospital Radio.
10/2/14 A further Valentine story, the two part tale 'The St. Valentine's Day Mix-Up' is issued by the children's hospital radio network, Radio Lollipop.
35 years after Space Gypsy was first broadcast a revamp is being planned.... watch this space!
(site updated 25/10/2021)
/